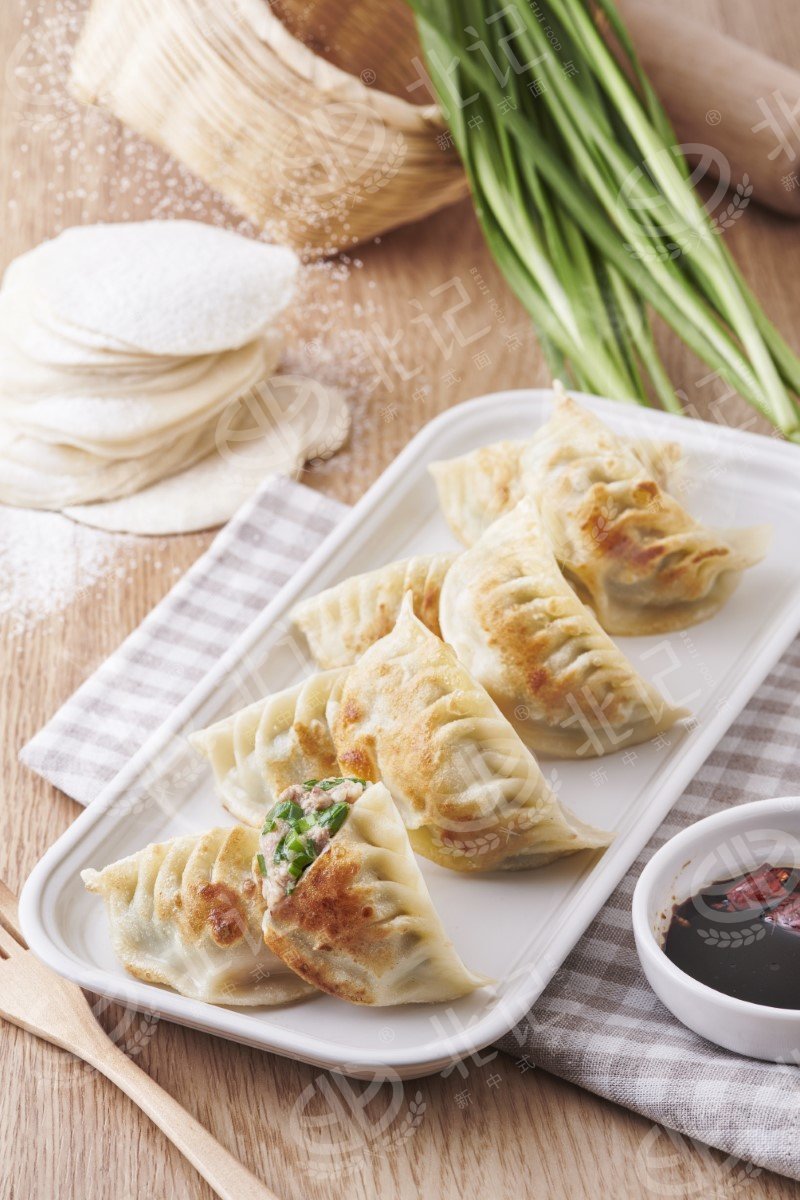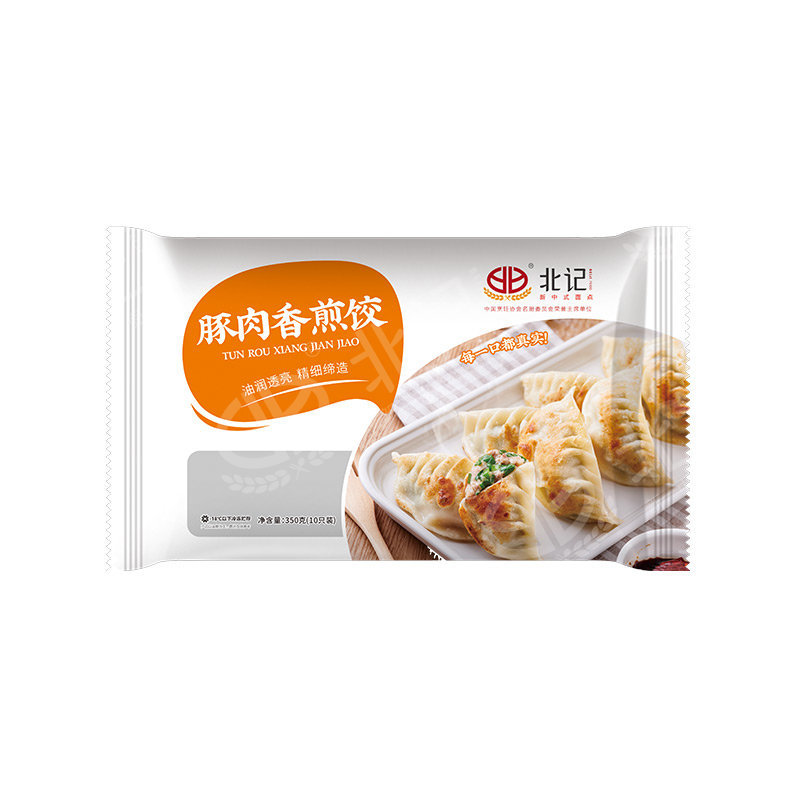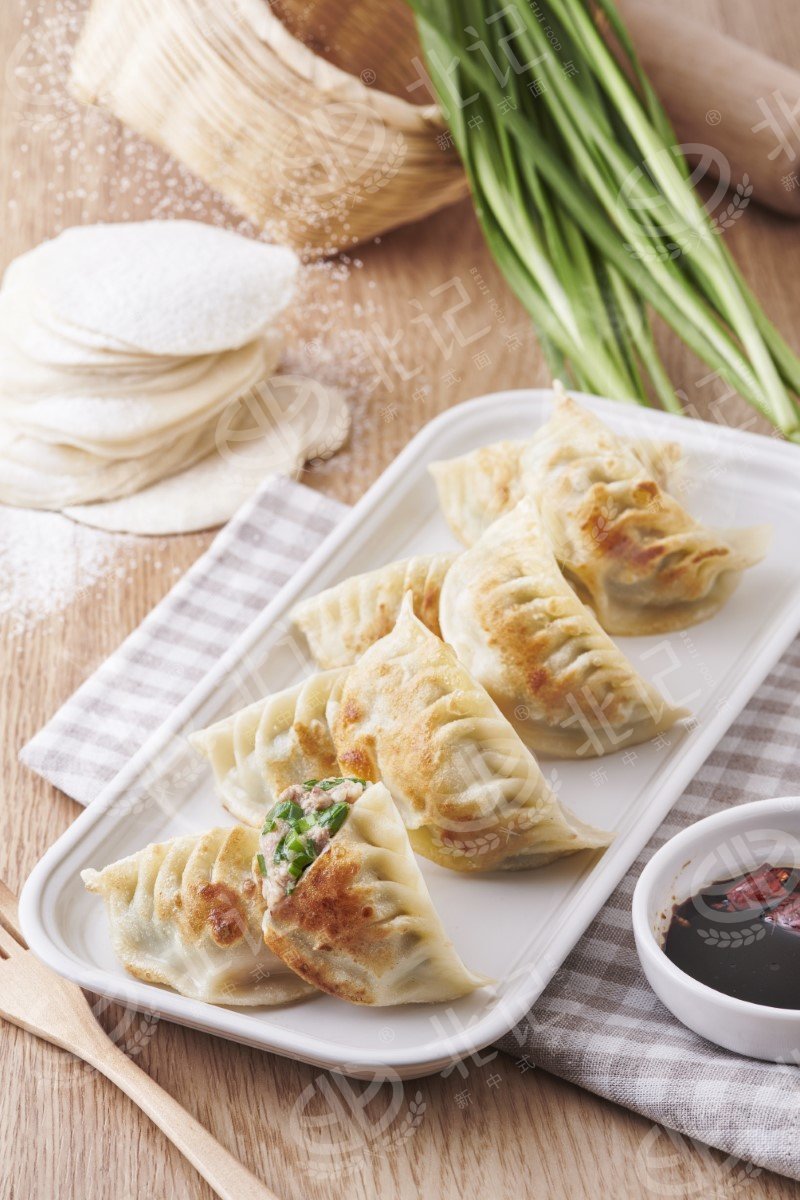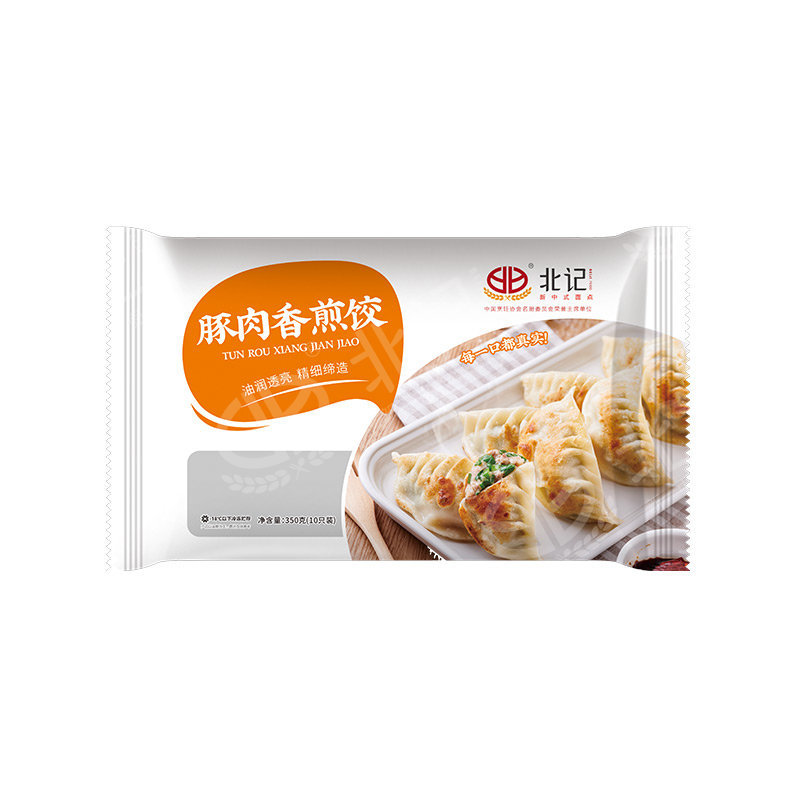 Pan-fried Pork Dumpling
---
Commodity name:

Pan-fried Pork Dumpling

Product specification: 350g/bag (10pcs), 12 packs/pc_x000D_ Product main ingredients: wheat flour, pork, leek, horsetail, raw flour_x000D_

◆Product Features
Pan-fried pork dumplings, the dough is made of high-quality wheat flour, the filling is selected pork, and the leeks rich in various nutrients are refined by modern molding technology. The dumplings are steamed and boiled, and the skin is tough and smooth. The pork is wonderfully blended and full of fragrance, and the taste is fresh and not greasy. If it is fried, the skin will be slightly burnt, which is even more delicious.


◆How to eat the product
1. Frying method: The product does not need to be thawed, steamed directly in boiling water for 8 minutes, and brushed with the bottom of the pan
A little soybean oil, then preheat to 200°C for about a minute, put in the steamed product, and fry both sides until golden
color, ready to eat.
2. Steaming method: The product does not need to be thawed, and it can be eaten directly by steaming with boiling water steam (water separation) for 8-10 minutes.


◆Product Precautions
1. Please use it as soon as possible after unpacking, and do not freeze it again after completely thawing.
2. The product does not need to be thawed. Use a paper pad under the product and then put it in the pot for steaming, which can prevent the dumpling skin from sticking to the steaming plate.
⒊There should be a space for the products to be steamed and placed to prevent the steamed products from sticking to each other.
4. Pay attention to the time and skin changes when frying the product, so as to avoid overcooking and causing the skin to be too burnt.
5. Pay attention to the hot filling when eating.


◆Product retail price
Suggested market retail price: Yuan/piece, Yuan/package
Overview:
Product specification: 350g/bag (10pcs), 12 packs/pc_x000D_ Product main ingredients: wheat flour, pork, leek, horsetail, raw flour_x000D_
---
◆Product Features
Pan-fried pork dumplings, the dough is made of high-quality wheat flour, the filling is selected pork, and the leeks rich in various nutrients are refined by modern molding technology. The dumplings are steamed and boiled, and the skin is tough and smooth. The pork is wonderfully blended and full of fragrance, and the taste is fresh and not greasy. If it is fried, the skin will be slightly burnt, which is even more delicious.

◆How to eat the product
1. Frying method: The product does not need to be thawed, steamed directly in boiling water for 8 minutes, and brushed with the bottom of the pan
A little soybean oil, then preheat to 200°C for about a minute, put in the steamed product, and fry both sides until golden
color, ready to eat.
2. Steaming method: The product does not need to be thawed, and it can be eaten directly by steaming with boiling water steam (water separation) for 8-10 minutes.

◆Product Precautions
1. Please use it as soon as possible after unpacking, and do not freeze it again after completely thawing.
2. The product does not need to be thawed. Use a paper pad under the product and then put it in the pot for steaming, which can prevent the dumpling skin from sticking to the steaming plate.
⒊There should be a space for the products to be steamed and placed to prevent the steamed products from sticking to each other.
4. Pay attention to the time and skin changes when frying the product, so as to avoid overcooking and causing the skin to be too burnt.
5. Pay attention to the hot filling when eating.

◆Product retail price
Suggested market retail price: Yuan/piece, Yuan/package
---
Note: Please leave your contact information, and our professionals will contact you as soon as possible!