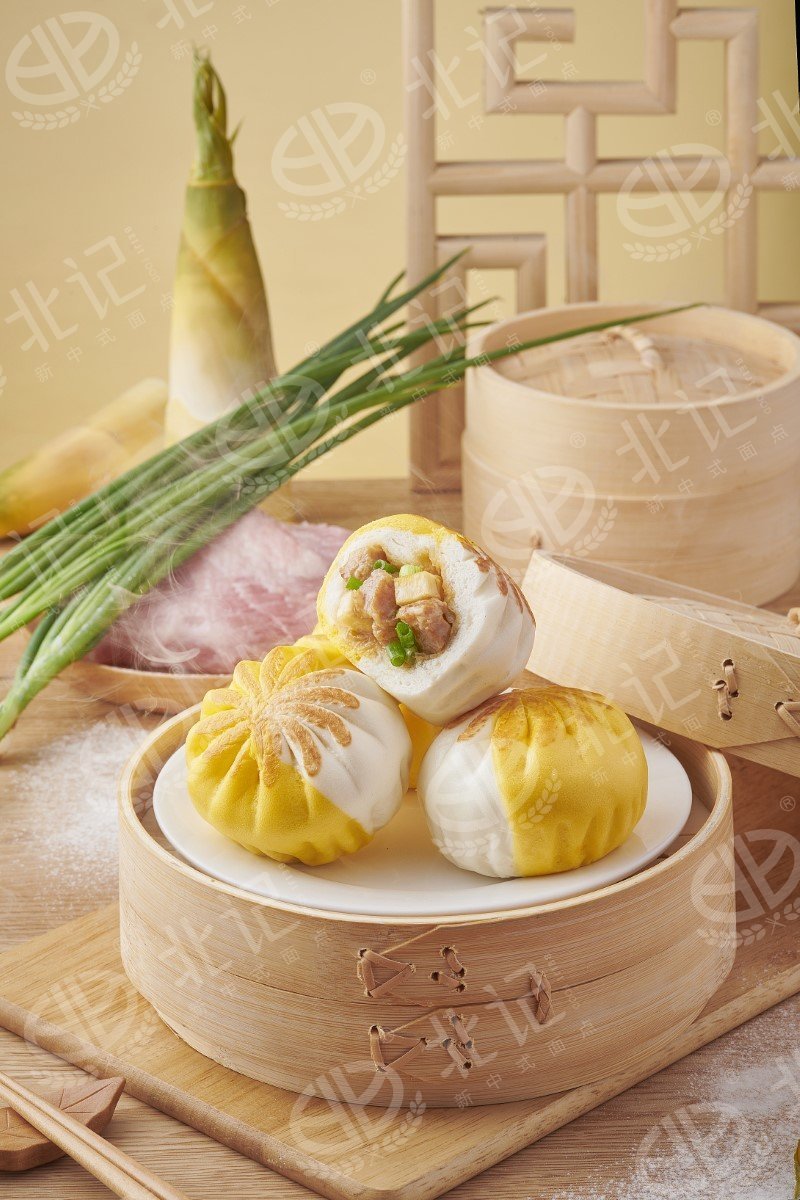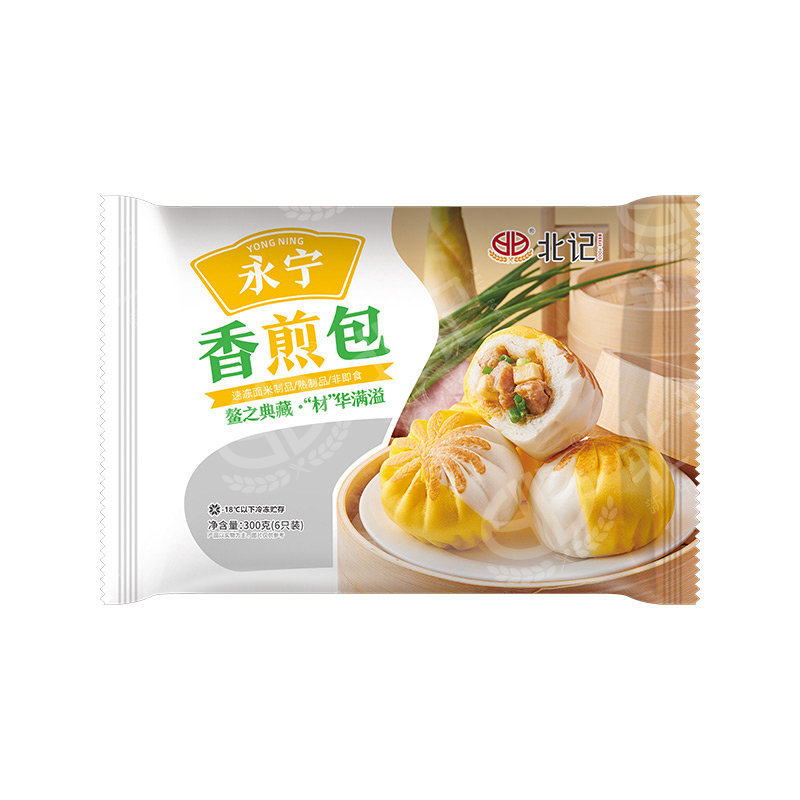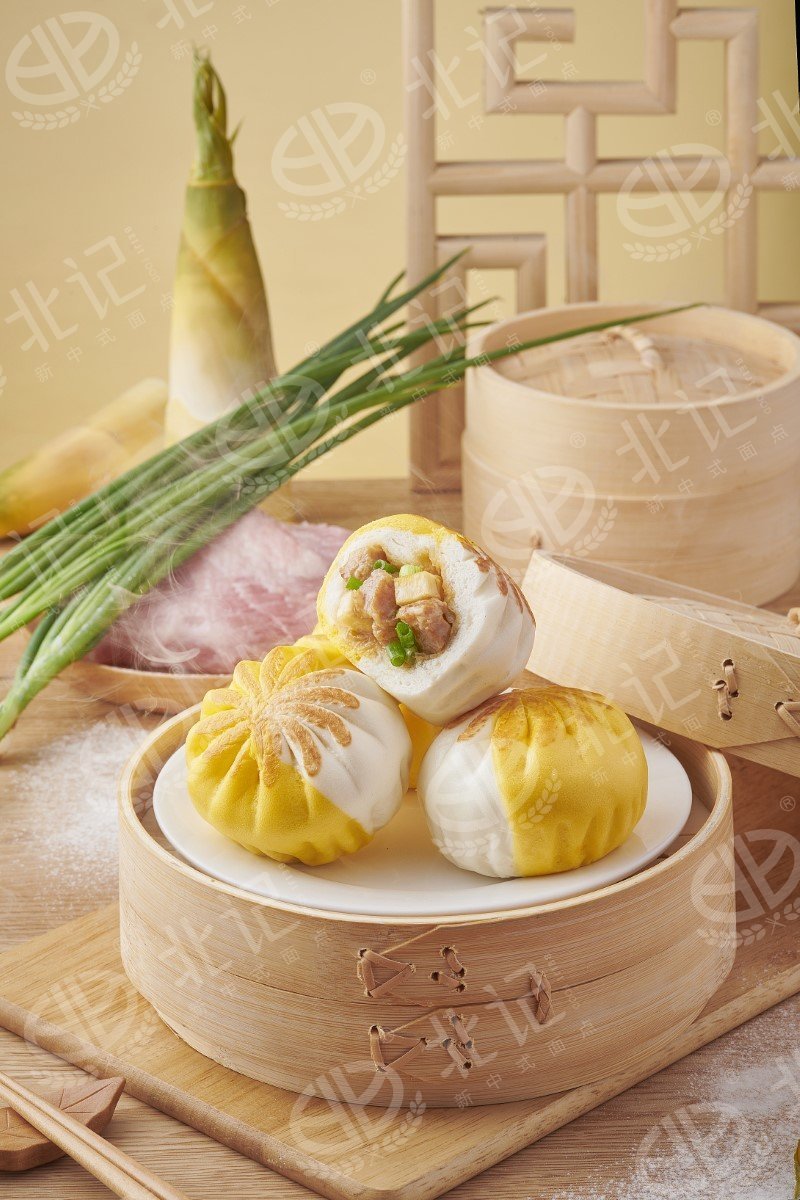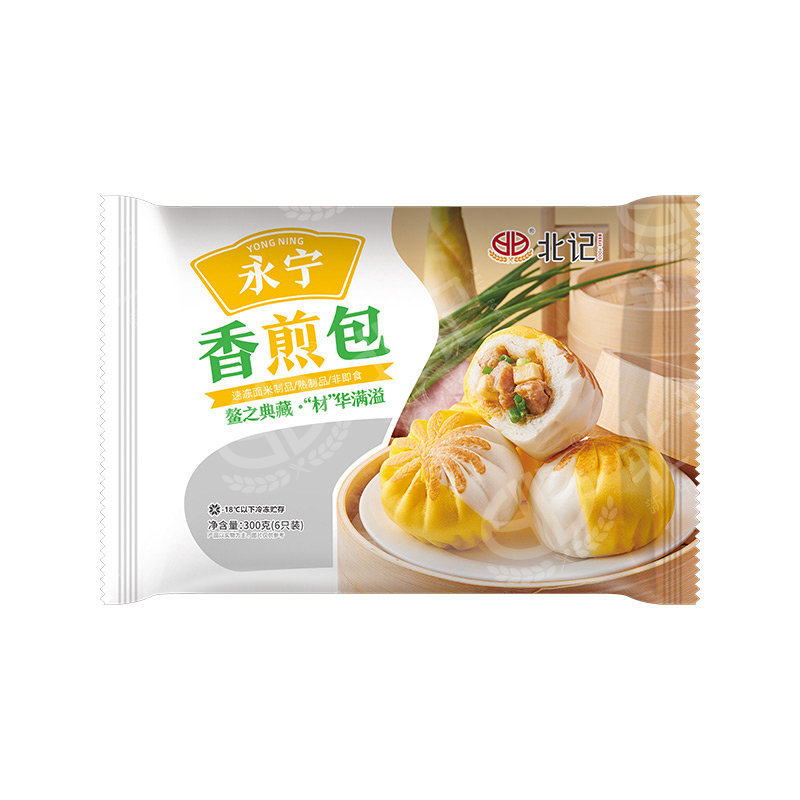 Yongning Pan-fried Dumpling
---
Commodity name:

Yongning Pan-fried Dumpling

Product specification: 300g/pack, 20pack/piece_x000D_ Main ingredients: wheat flour, drinking water, pork, green onion, diced bamboo shoots

◆Product Features
1. Modern industrial molding buns, contrasting color yellow and white skin novelty, with a strong memory point, the value of the appearance in meat stuffed pastry products;
2. The filling uses the traditional method of marinated pork diced in sauce, mixed with green onions and diced bamboo shoots to make a salty flavor filling.
3. In addition to the eye-catching color of the skin, the modern frying process adopted makes the product look like sunflowers in full bloom, which can be described as complete in color, aroma and taste.

Yongning fried buns are made of high-quality wheat flour, diced braised pork in traditional method, diced green onions and diced bamboo shoots. They are refined through modern molding technology. The appearance not only resembles vibrant sunflowers, but also the color-contrasting process of the outer skin. It is very novel and unforgettable. It has a rich sauce and chewy meat, making it unforgettable.


◆How to eat the product
1. Steaming method: The product does not need to be thawed, just steam it with boiling water steam (water separation) for 8-10 minutes, and then put it on a plate.
2. Frying method: The product does not need to be thawed, just steam it in boiling water for 6 minutes, preheat it with a pan for about 2 minutes, brush a little soybean oil on the bottom of the pan, put the steamed product (tear off the pad paper), and turn the bottom surface over low heat Fry for 1.5 minutes, turn over and fry for another 2 minutes, both sides are golden brown, ready to serve
Overview:
Product specification: 300g/pack, 20pack/piece_x000D_ Main ingredients: wheat flour, drinking water, pork, green onion, diced bamboo shoots
Yongning Pan-fried Dumpling
---
◆Product Features
1. Modern industrial molding buns, contrasting color yellow and white skin novelty, with a strong memory point, the value of the appearance in meat stuffed pastry products;
2. The filling uses the traditional method of marinated pork diced in sauce, mixed with green onions and diced bamboo shoots to make a salty flavor filling.
3. In addition to the eye-catching color of the skin, the modern frying process adopted makes the product look like sunflowers in full bloom, which can be described as complete in color, aroma and taste.
Yongning fried buns are made of high-quality wheat flour, diced braised pork in traditional method, diced green onions and diced bamboo shoots. They are refined through modern molding technology. The appearance not only resembles vibrant sunflowers, but also the color-contrasting process of the outer skin. It is very novel and unforgettable. It has a rich sauce and chewy meat, making it unforgettable.

◆How to eat the product
1. Steaming method: The product does not need to be thawed, just steam it with boiling water steam (water separation) for 8-10 minutes, and then put it on a plate.
2. Frying method: The product does not need to be thawed, just steam it in boiling water for 6 minutes, preheat it with a pan for about 2 minutes, brush a little soybean oil on the bottom of the pan, put the steamed product (tear off the pad paper), and turn the bottom surface over low heat Fry for 1.5 minutes, turn over and fry for another 2 minutes, both sides are golden brown, ready to serve
---
Note: Please leave your contact information, and our professionals will contact you as soon as possible!