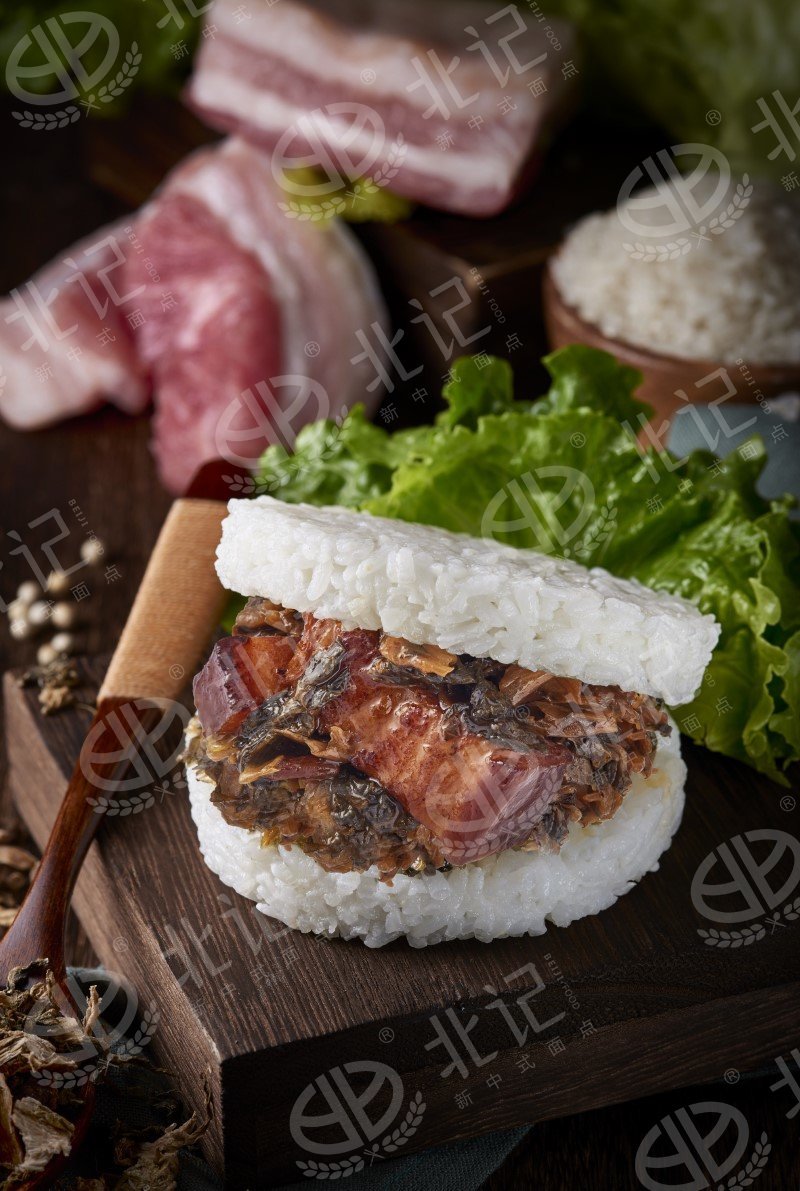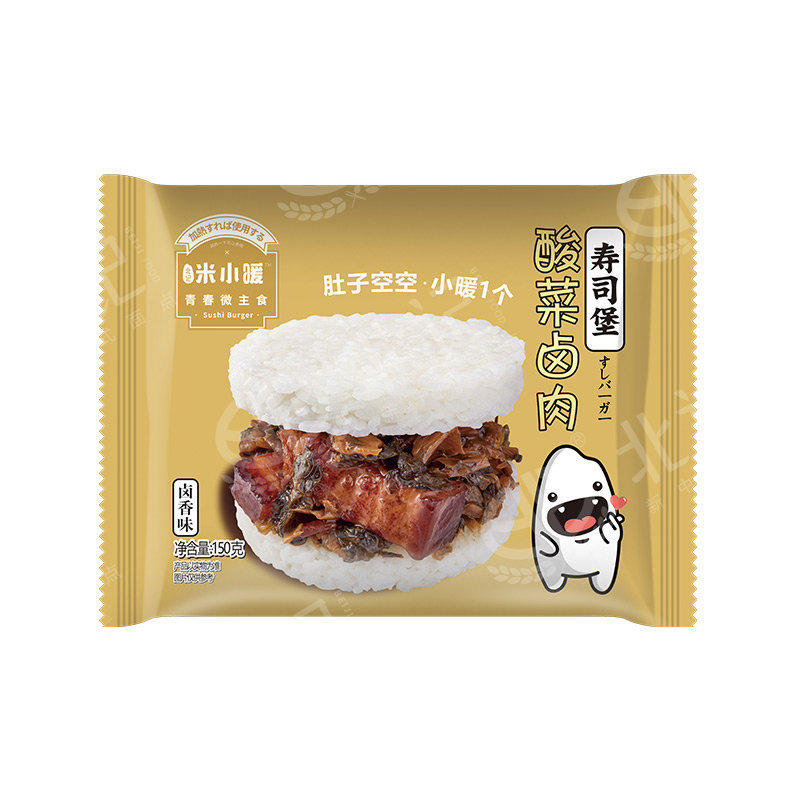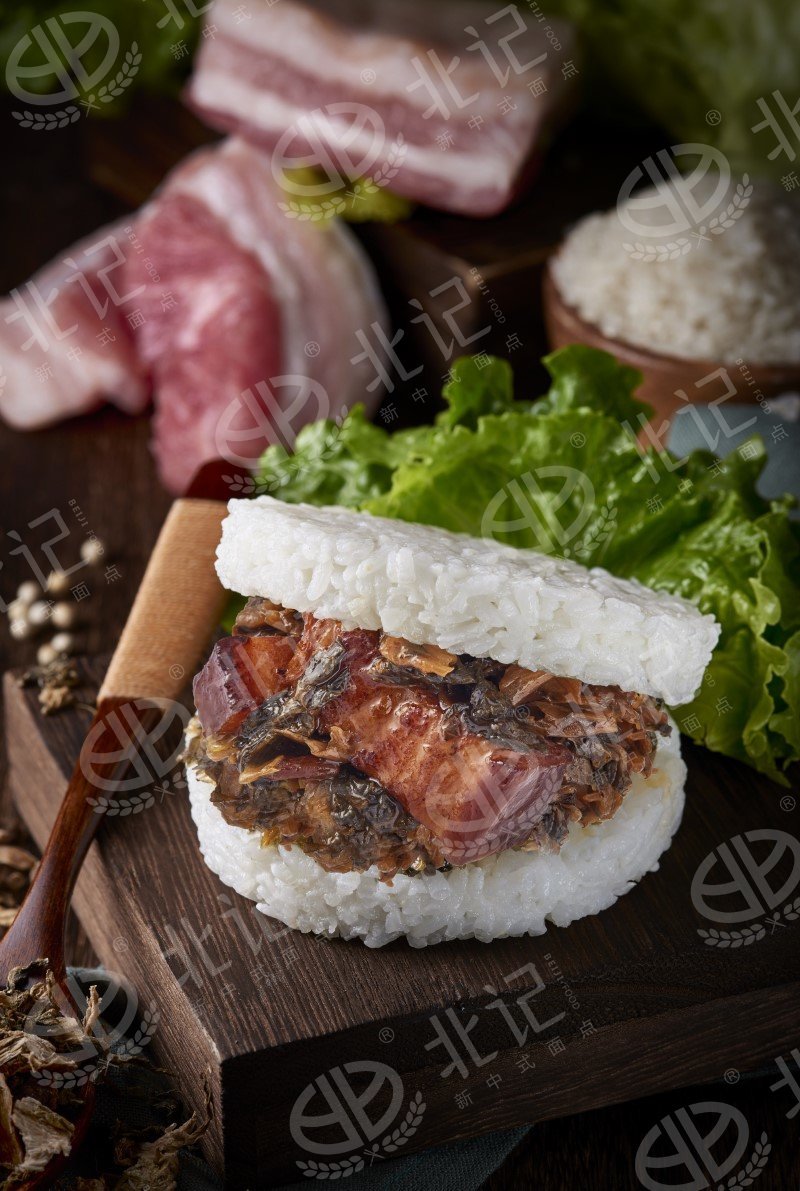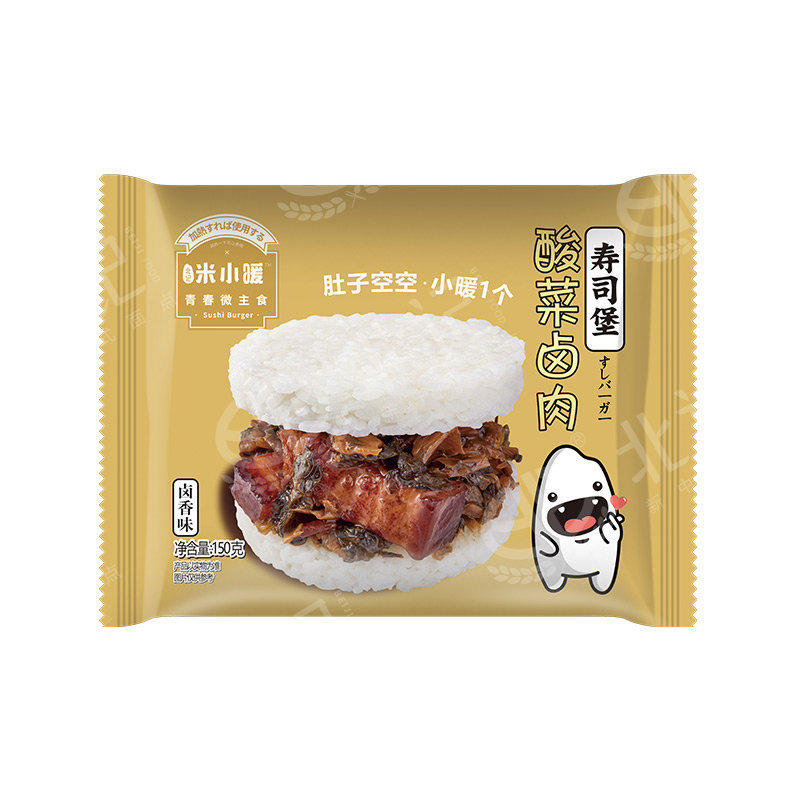 Sauerkraut Braised Pork Sushi Burger
---
Commodity name:

Sauerkraut Braised Pork Sushi Burger

Product specification: 150g/bag, 40bags/piece Main ingredients of the product: drinking water, rice, preserved vegetables, pork, brewed soy sauce, white sugar, edible cornstarch, spices

◆Product Features
1. Western-style hamburger shape, a combination of Chinese and Western, full of highlights.
2. The special rice cakes are soft and delicious. The fillings are made of high-quality sauerkraut and carefully stewed pork.
3. The outer box of the packaging is made of food-grade microwaveable materials. The product can be eaten directly by microwave for 2-3 minutes, which is fast and convenient, and the packaging is very distinctive.

Product features: Sour and mouth-watering, it melts in the mouth. The rice plate made of carefully selected high-quality sushi rice is pressed and cooked, with carefully marinated sauerkraut rich in trace elements and fatty but not greasy braised pork.

◆How to eat the product
1. Microwave heating: The product does not need to be thawed. After it is taken out of the outsourcing bag, it is placed in a microwave oven (about 700W power) and microwaved for 3-4 minutes together with the white box.
2. Steaming in an electric pot: The product does not need to be thawed. After taking it out of the outer bag, put it into the pot together with the white box and steam for 30-40 minutes. (The method of steaming in an electric pot has more moisture and takes a long time, and the rice plate tastes moist. It is recommended to heat it in a microwave.)
Overview:
Product specification: 150g/bag, 40bags/piece Main ingredients of the product: drinking water, rice, preserved vegetables, pork, brewed soy sauce, white sugar, edible cornstarch, spices
Sauerkraut Braised Pork Sushi Burger
---
◆Product Features
1. Western-style hamburger shape, a combination of Chinese and Western, full of highlights.
2. The special rice cakes are soft and delicious. The fillings are made of high-quality sauerkraut and carefully stewed pork.
3. The outer box of the packaging is made of food-grade microwaveable materials. The product can be eaten directly by microwave for 2-3 minutes, which is fast and convenient, and the packaging is very distinctive.
Product features: Sour and mouth-watering, it melts in the mouth. The rice plate made of carefully selected high-quality sushi rice is pressed and cooked, with carefully marinated sauerkraut rich in trace elements and fatty but not greasy braised pork.
◆How to eat the product
1. Microwave heating: The product does not need to be thawed. After it is taken out of the outsourcing bag, it is placed in a microwave oven (about 700W power) and microwaved for 3-4 minutes together with the white box.
2. Steaming in an electric pot: The product does not need to be thawed. After taking it out of the outer bag, put it into the pot together with the white box and steam for 30-40 minutes. (The method of steaming in an electric pot has more moisture and takes a long time, and the rice plate tastes moist. It is recommended to heat it in a microwave.)
---
Note: Please leave your contact information, and our professionals will contact you as soon as possible!